The Story Behind the 'Moises Padilla Story'
Submitted by Dino Manrique on Wed, 2006-12-13 13:39.
fpj | gerry de leon | joseph estrada | leopoldo salcedo | moises padilla story
Last Wednesday, December 6, at the week-long Cine Veritas Human Rights Film Festival, got to see the UP Film Institute Cine Adarna screenings of Gerry de Leon's Moises Padilla Story at 2pm, and Celso Ad Castillo's Asedillo at 7pm. Poet and UP Creative Writing Institute Deputy Director Romulo "Joey" Baquiran, Jr. tagged along for the first screening when I dropped by the Creative Writing Institute and told him that I was watching Moises Padilla.
As expected, the noticeable thing about Moises was jumbled and missing scenes and sequences -- I had already been warned by UPFI's programmer, Nonoy Lauzon, the day before when I introduced myself to him at the Cine Adarna lobby. At any rate, it was fun watching Leopoldo Salcedo as Moises Padilla, and a young Joseph Estrada (I think he won a FAMAS for this one) and Max Alvarado. Joey Baquiran noticed how Gerry de Leon was an expert framing scenes. We had already talked about it just before the screening started, and I told Joey how when I first saw the director's restored Noli Me Tangere some years back, I was struck by how scenes looked like Kurosawa's. Later, I was pleasantly surprised to discover -- I think in an LVN Anthology -- that it was Kurosawa who apprenticed or might have apprenticed with de Leon.
After the screening, ran into film historian and "film archaeologist" Teddy Co, film production designer and filmmaker Cesar Hernando, and film critic and Criticine.com co-owner Alexis Tioseco. I was then introduced to one of the festival's guests, 34-year old filmmaker Amir Muhammad whose documentary The Last Communist, had its world premiere on the festival's first day, Tuesday, (wasn't able to see it because of a previous commitment) and PhD Film and Media Studies student (Indiana University-Bloomington) Jasmine Nadua Trice, a Filipino-American who was with Alexis. Amir's movie had the honor of being banned by his country's censors because "it wasn't violent enough." That is, the communist or communists in the movie weren't depicted as violent.
When I learned about this during the merienda that followed at Chocolate Kiss (at the Bahay ng Alumni) I congratulated him, and he laughed and said that I wasn't the first one to tell him this.
Jasmine, meanwhile, who is doing her thesis is still looking for something to focus on and, for the moment, is looking around and just taking in everything.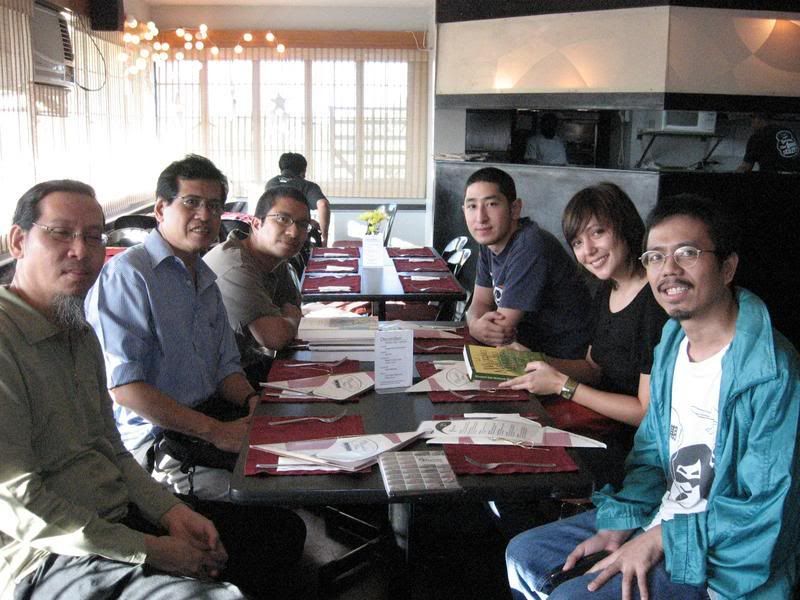 Later, one of UPFI's officers, Lali Lacaba joined us (I had to ask Teddy Co who was she, for I often saw her at the Cine Adarna. Teddy was surprised that I didn't know Emman Lacaba's widow. Wow, I thought to myself. There's a great story and interview there somewhere.) Lali would later pay for our meals (Thanks, Madame Lacaba!)
Just before we left Chocolate Kiss, Teddy explained in detail the story of the Moises Padilla print that was shown that afternoon. In 1982, there was a Gerry de Leon Retrospective sponsored by the Experimental Cinema of the Philippine (ECP). They couldn't find a copy of Moises Padilla until Leopoldo Salcedo (Pol Salcedo to Teddy) himself informed Teddy that the producer of Moises, Manuel Lagunsad, was still alive. Lagunsad then told Teddy that he didn't have a copy but perhaps his brother (or brother-in-law) in Davao had one, and he could ask him. And lo and behold, after two months, a print arrived in Manila. That was how they were able to show Moises in the de Leon retro in 1982.
Later, Teddy would leave the print for safekeeping at LVN, and then finally at Mowelfund. At Mowelfund, somehow, no documentation was made that the Moises print was left by Teddy, and so when those who wanted to "restore" the Moises print -- I think it was the Philippine Information Agency in cooperation with Mowelfund -- made another print of the movie, they didn't consult Teddy, (who admitted that he was a bit miffed by this, to say the least). The omission was unfortunate because at that time, it turned out that Teddy still had one reel with him -- I think it was the gouging of the eyes sequence -- which he lent at that time to British documentarist Tony Raines. At any rate, besides the missing reel, consulting the Moises script (if ever there was one), or taking the time to analyze the reels and scenes, would also have been helpful, since some of scenes in the re-print of the film were out of sequence.
Cesar Hernando explained that in the olden days, when a reel burst into flames during a screening, the projectionists would then splice the reels and oftentimes mistakes would be made in the process, like cutting too much or perhaps splicing the wrong film strips. So he opined that perhaps this should have been taken into account when the current print of the film was made. (Since I haven't really done any film course, he explained the process to me. In a nutshell, here is how I understood his explanation: An interneg or a negative is made from the original and then from a resulting negative, another print is made.)
All of these, of course is fascinating stuff, and I just wish that we would find and preserve more of our country's cinematic treasures. (A friend of mine, when I told her this story, recalled that she met somebody who envisioned or had envisioned a project of collecting toy trumpets or torotots made of film. The reason being that the film strips which made up these torotots might contain cinematic gems. I'm not sure what kind of film is used for these trumpets, but if indeed they are made of movie films, then this is or was a laudable project.)

In the evening, we watched Asedillo. This is supposedly the famous movie where Muslims in Mindanao shot the screen or rioted because FPJ died in the end. Before we watched the film, Cesar Hernando told me that due to this, the filmmakers made another version where the face of FPJ was superimposed against the sky, as if he was resurrected. The version we saw meanwhile that evening had a different actor very obviously subbing for the 'dead' FPJ (tied to a cross), and then FPJ standing on the mountain (his and his followers' lair) looking down. That's Philippine cinema for you!
Also present at the screening was FPJ's sister. I have to ask Nonoy Lauzon later for her name.