SIX DEGREES OF SEPARATION FROM LILIA CUNTAPAY Commercial Screening
Submitted by Dino Manrique on Tue, 2012-10-30 21:08.
Screening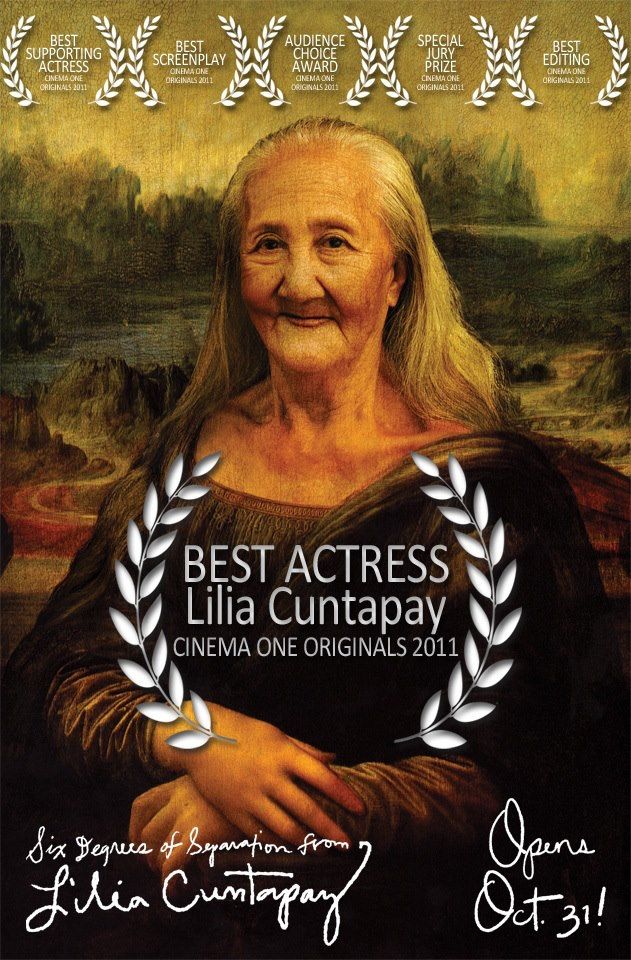 THEATERS FOR SIX DEGREES OF SEPARATION FROM LILIA CUNTAPAY AS OF 10/29/2012 11:09pm:

SM North EDSA Cinema 9
SM Fairview Cinema 11
SM Megamall Cinema 10
SM Manila Cinema 4
SM Southmall Cinema 5
NEW! Robinson's Galleria Cinema TBA  Cinema 4

SM Sta. Mesa Cinema 10

Note: No more SM Sta. Mesa but SM SOUTHMALL IS BACK ON THE LIST! (Update from Six Degrees of Separation from Lilia Cuntapay Starting tomorrow kasi... palabas na rin tayo sa SM Sta. Mesa! Ay, mamaya na pala yun mga anak.)
Update (11/2/2012, 3:05pm): Sad to hear that 3 (or 2?) theaters have pulled out SIX DEGREES OF SEPARATION FROM LILIA CUNTAPAY. According to a comment by their official Facebook page, the movie is now only available in the following theaters: SM Megamall,  SM Southmall, SM North Edsa, and Robinson's Galleria. Watch it ASAP bago tuluyang mawala. (This is sad, because there are FDCP and SM plans to make some SM theaters FDCP Cinematheques, so that there will be no more first day-last day-screenings. If SM is really serious in supporting Filipino films, can't they start now?!).

Please share mga anak! Kitakita tayo sa OCTOBER 31! Oo, OCTOBER 31 dapat para hindi agad tanggalin ng SM sa mga sinehan! I need your support mga anak, Halloween gift nyo na sa akin hihihi

CINEMA ONE ORIGINALS in association with POSTMANILA presents "SIX DEGREES OF SEPARATION FROM LILIA CUNTAPAY"

starring LILIA CUNTAPAY

written and directed by ANTOINETTE H. JADAONE
executive producer RONALD ARGUELLES
producer JOENATHANN ALANDY
line producer/production manager DAPHNE CHIU
assistant director CHAD ANGELIC CABIGON
director of photography SOL GARCIA
production designer DIGO RICIO
editors LEO VALENCIA and GLENN ITURIAGA
animator NINO PILOTIN
sound designer DITOY AGUILA
musical scorer AYN MARIE DIMAYA
Awards   
Cinema One Originals 2011 Awards
- Special Jury Prize
- Best Screenplay (Antoinette Jadaone)
- Best Actress (Lilia Cuntapay)
- Best Supporting Actress (Ge Villamil)
- Best Editing (Leo Valencia and Glenn Ituriaga)
- Audience Choice Award

Official Selection, Udine Far East Film Festival 14 (Udine, Italy)

Official Selection, 12th Neuchatel International Fantastic Film Festival (Neuchatel, Switzerland)

Exhibition, Cinemalaya Philippine Independent Film Festival (Pasay City, Philippines)

Official Selection, A Window on Asian Cinema – 17th Busan International Film Festival (Busan, South Korea)
sound recordist MARK LOCSIN
What they're saying about SIX DEGREES OF SEPARATION FROM LILIA CUNTAPAY:

RT Phil Dy @faithlessphil - "Daily reminder: Six Degrees of Separation from Lilia Cuntapay opens TOMORROW. It is brilliant. I'll stake my entire career on it."

RT Pepe Diokno @PepeDiokno
"Funny clip from "Six Degrees of Separation from Lilia Cuntapay" http://www.youtube.com/watch?v=OcE5ZRJSPTI … @heyitsmeLiliaCu opens Oct 31 cant wait to see it again"
More capsule reviews at Pinoy Rebyu!

https://www.facebook.com/sixdegreesofseparationfromLC.movie