'Riles', a Movie Executed to Perfection
Submitted by Dino Manrique on Sun, 2006-12-10 03:27.
cinekatipunan | ditsi carolino | riles
Went to the December 9, Cinekatipunan screening -- at Mag:net Katipunan -- of Ditsi Carolino's 'Riles'. I heard a lot of good things about the film from fellow cineastes, especially from my filmmaker friend JP Carpio, and had included 'Riles' among my must-see films. And I wasn't disappointed. I've long suspected that documentaries, when properly executed are the highest form of cinematic art, and in this film, Ditsi Carolino executed to perfection. Ditsi, who was at the screening, wanted the film to talk for itself, so decided during the film's conception that there would be no voice-over narration. When she introduced the film, she said that there would be no hand-holding for the viewer and so we had to pay attention.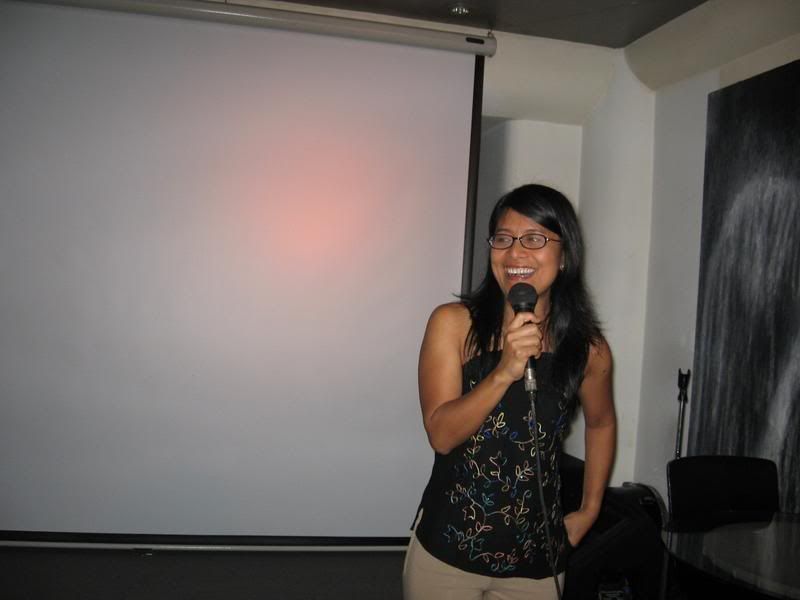 But we didn't need a lot of effort to pay attention since the movie was compelling enough, to say the least. The movie is about a couple who lives beside the tracks with their five children -- two of their own, and three adopted (whose parents were killed by a train, according to another web site), if I'm not mistaken. They are renting lot space from their landlord who is a squatter himself. The movie takes a look at their hand-to-mouth existence -- the father Eddie who sells balut or duck eggs, the mother Pen who does laundry and ironing for other people, and their children who have aspirations of going abroad. I'm betting that our favorite critic Ray Carney, who champions showing life in all its complexities will love this film if he still hasn't seen it, since the movie projects a wide spectrum of emotions ranging from desperation and humor (mostly coming from the husband and wife dynamic of Eddie and Pen). Another quality that Carney would definitely like is the hopeful tenor of the film.
And perhaps this quality explains what happened after people saw the film. Many kind souls were touched by the movie, and were inspired to help the family. Initially, they helped the family by assisting with the rent, but Ditsi and those who were helping decided that assistance would be better if aid to the family had a more long-term effect. So they helped the family move to a new place in Payatas.
Now, you may be wondering how I know these details. Well, it's because before the screening, Ditsi had mentioned a surprise, and it turned out that the couple and their child Evelyn was present at the screening. A question and answer session followed immediately after the viewing, and the audience members were able to ask how the couple were now doing. Pen revealed that their daughter Munti didn't go to Japan, but to Australia instead with her Australian text-mate (who I think is now her husband -- I'm not sure). Ditsi revealed that some of the children including Munti and Evelyn were given free caregiving lessons by kind-hearted sponsors (I forget the name of the institution or the people involved). Pen, the wife, meanwhile I think is still undergoing therapy (in the film her right breast had already been removed due to breast cancer). Ditsi requested her church mates, who were present during the screening, to include Pen in their prayer sessions.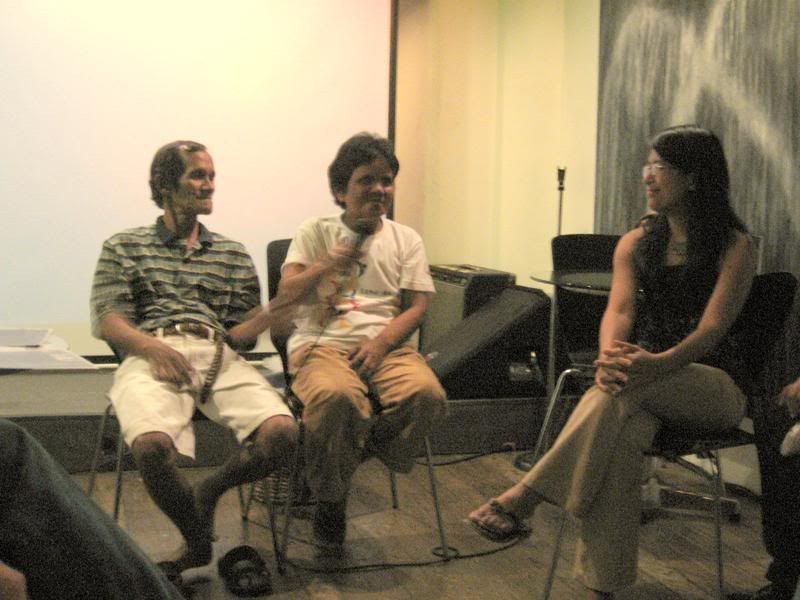 I was also able to ask the couple how they hooked up with Ditsi and whether they immediately agreed to do the movie. Eddie jokingly replied that they did immediately agree, but they thought that it was only going to be a short while, not a whole month. Ditsi explained that it was actually more than a month. Including pre-production, planning, coordinating with their church, the whole thing took about five months. (There were also false starts. The original subject turned out to be a shabu user, and Ditsi wanted to project a positive impression of our poor people to international viewers, so she looked further and found -- with further help from their church -- Eddie and Pen's family.)
Ditsi also explained how she got the idea for the film. She and her filmmaking classmates have long been passing by the tracks on their way to buy film equipment, and she had always wondered how life was for the people who lived there. So she decided to make the film as her thesis for her graduate studies.
At any rate, life is relatively better now for the couple, and it is very inspiring to see a movie having a positive impact, in this case on its subjects. Definitely one of the best Filipino movies ever produced.
I approached Ditsi after the forum to introduce myself and to ask permission to use at this site clips of her movie I shot during the screening. I told her that the beauty of 'Riles' was that it was at the same time truthful and hopeful. She agreed, and pointed out the latter trait as very Filipino. When I asked her if I could interview her in the future, she said she would prefer an interview in person instead of via e-mail since she seldom checks her inbox. I would definitely interview her to help market this movie further (and consequently the family) and to learn more about this great woman. (Not to mention get the details about movie and the family right
.)
Other notes: The half-hour movie by the Multi-media group Tudla, 'Sa Ngalan ng Tubo', about the Hacienda Luisita Killings was shown before 'Riles', and although one-sided, is a gripping documentary and covers events leading to the incident...Ran into Manila Bulletin writer Yvette Pantilla at the screening -- we were the first to arrive, me just a few minutes ahead of her -- and last I heard she will also write an article about the screening and might use my photos. Good luck with your article, Yvette.
...Eddie brought baluts to sell, and Ditsi had requested me and the rest of the audience to buy from the couple, but I couldn't since I had to run to a church event (a Bukas-Palad concert which our Music Ministry was sponsoring). At any rate, will definitely buy from them next time. In the meantime, will help the couple by writing more about the movie.